Welcome....

To the Sights and Dreams of a
Dead mAn

If you've got a death fetish, come on in.
If not, get the fuck out!!

"Beneath the dust and love and sweat that hangs on everbody,
there's a Dead mAn trying to get out..."
Within this sight you will find all sorts of ideas and poems and whatever the fuck else I could think of to put on here. You will find some ideas and poems by some of my favorite poets. But mostly, it's all about me, baby. I got some of my best poems and some of my idiotic ramblings on here just to give you an idea on what a sick fuck I am. So enjoy, although I'm not expecting you too ;]

"He gave me a shovel"
my lust for satan's best
is the only reason i passed his test
alone and naked dreaming in a dream
i sit wanting, waiting, please....
self destruction is a force of habit
life keeps slipping by, i cant grab it
satan always laughs when i am falling
guilt trip, what a hit
now i hear him calling
him and my mother
were in on it together
was this really all test
is that why i have nothing left
just look at that son of a bitch laugh
as he points to a shovel
"start digging mother fucker"
~Dead mAn~

"Cane"
But me, I'm a machine
I do whatever need be
I listen while you talk
I fight while you walk
I'm at risk while you stay safe
I sit and wait while you're out on a date
subtly you pontificate
seduce with your sorrow
laugh at my marrow
not good enough for you
but perfectly able
call me your Cane
put me ijn your stable
~Dead mAn~




"THE LITTLE VAGABOND"
Dear Mother, dear Mother, the Church is cold,
But the Ale-house is healthy & pleasant & warm;
Besides I can tell where I am used well,
Such usage in heaven will never do well.
But if at the Church they would give us some Ale
And a pleasant fire for our souls to regale,
We'd sing and we'd pray all the live-long day,
Nor ever once wish from the Church to stray.
Then the Parsons might preach & drink & sing,
And we'd be as happy as birds in the spring;
And modest dame Lurch, who is always at Church,
Would not have any bandy children, nor fasting, nor birch.
And God, like a father rejoicing to see
His children as pleasant and happy as he,
Would have no more quarrel with the Devil or the Barrel,
But kiss him & give him both drink and apparel.
-William Blake-








contact at your own risk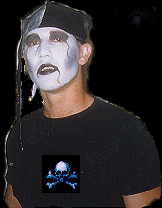 The number of visitors to this illuminating hellhole is since October 27, 1998.